The following is publicity from the Muslim Legal Network:
Last night we welcomed the legal fraternity to the Auburn Gallipoli Mosque for the 2019 Islamic Opening of Law Term service. We are thankful for the continued support of the judiciary, 
The Law Society of NSW
 and the NSW Attorney General,
Mark Speakman
. We look forward to a productive 2019
The Network is not backward in its anti-Israel advocacy, as evidenced by this threat to boycott Fairfax publications:
In a letter to the Fairfax chief executive, Greg Hywood, and editor-in-chief, Darren Goodsir, the Australian National Imams Council, Islamic Council of New South Wales and Muslim Legal Network New South Wales, among others, said they would boycott the Sydney Morning Herald unless the outspoken columnist was reinstated.
Carlton quit the Herald on Wednesday after being told he would be suspended for the language he used when replying to readers who objected to an article he wrote discussing the conflict in Gaza. The editor-in-chief of the SMH and Sun-Herald, Darren Goodsir, said Carlton had used "inappropriate and offensive language" – not in the column, but in his responses to readers.
The Muslim community groups also condemned the cartoon that accompanied Carlton's column. "It was indeed a racist cartoon that implicated the Jewish people in the actions of the Israeli state by using Jewish symbolism and stereotype," the letter said."However, 
the apology from Fairfax
 makes it clear that Fairfax has been put under pressure by the Israeli lobby."
On the Network's NSW website these two announcements sit side-by-side:
OPENING OF LAW TERM 2019 – ISLAMIC SERVICE
The Muslim Legal Network (NSW), in conjunction with the Auburn Mosque Committee, take great pleasure in inviting the Judiciary, members of the legal profession and community members to Auburn Gallipoli Mosque to attend an Islamic service to mark the opening of the 2019 Law Term.
The service will be held from 6:15pm to 7:30pm on Thursday, 7 February 2019. Guests are requested to arrive at 6:00pm so that the service can commence on time. The mosque is located at the corner of Gelibolu Parade and Dartbrook Road, Auburn.
We would appreciate if you could indicate whether you will be attending, to assist us with making the appropriate arrangements. You may forward your rsvp to 
events@muslimlegalnetworknsw.com
The Auburn Mosque Committee has requested that the attendees kindly observe a modest dress code for the event: for example, we would be grateful if shoulders and knees were covered and high-necked shirts were worn.
We are very appreciative of your support and look forward to hosting you
Muslim Legal Network (NSW)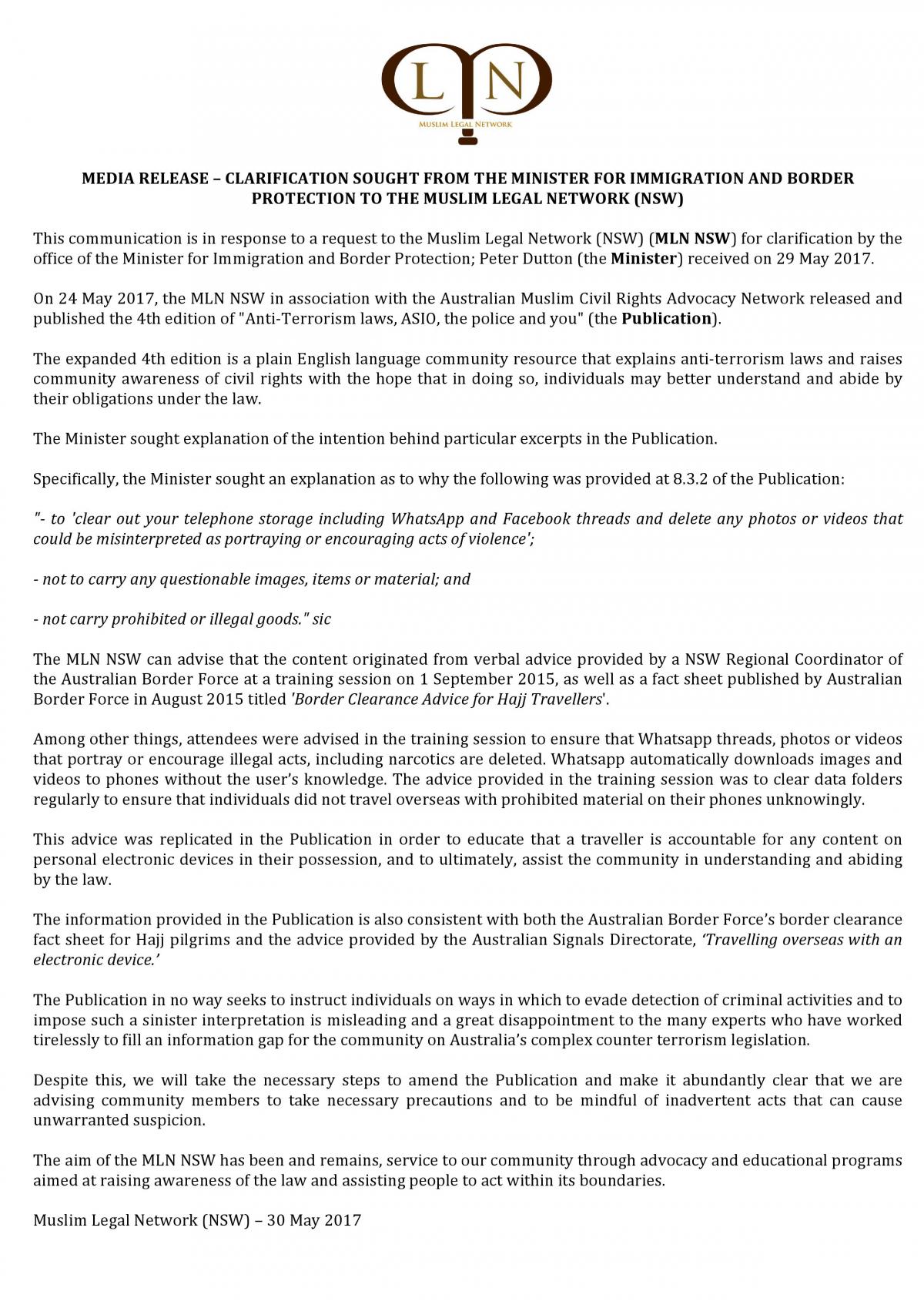 The publication questioned b Minister Dutton has a colorful history. For reference see
Australian Muslim legal guide – "never talk to police or ASIO" (without lawyer) & clear phone/SIM storage to evade scrutiny